Last year, we transformed The Guildford Hotel to a Southern California hot spot with our Midnight in Cali party for New Year's Eve. Then we sent one lucky guest across the ocean to Los Angeles to experience the real deal! Julia got to explore the City of Angels with its iconic streets, star studded culture and sunny skyline. We got to catch up with Julia when she returned to ask about her amazing adventures…
So Julia, where were you when you found out that you had won the flights?
I was at work when my mum saw that The Guildford Hotel had tried to ring my phone, because I had left it at home. When I got home she told me to ring back right away. So I rang and was told that I had won the trip and New Year's Eve tickets and I screamed so loud Mum knew immediately what had happened!
It must have been an amazing trip! What did you get up to?
We left Perth on the Thursday 17th August and landed at LAX on Friday 18th August early in the morning. We stayed in Downtown LA for the first couple days and loved going out and looking around at all the art.
I caught up with my friend who lives in LA and went to Universal Studios to go see the new Harry Potter section. It was amazing! We then left to go to Las Vegas for 3 nights, where we did lots of outlet shopping, went to a show and walked along the strip. One day, we went on a day trip to Horseshoe Bend and Antelope Canyon which were amazing!
We came back from Vegas and went to Anaheim to go to Disneyland- spending one day at each park, being there for 14+ hours each day! We had a day to recover at our hotel then moved to Glendale for the rest of our trip, where we relaxed and spent a lot of time in the pool, did some more shopping and went to Griffith Observatory. We then left LA on the 30th August and landed home on the 1st September – such a busy trip!
You must have taken a lot of photos! What was your favourite Instagram post of the trip?
I would have to say my favourite post was in Downtown LA at the very beginning of the trip where I copied the wall art behind me. It took so many shots and this one photo just came up so good! I have to thank mum for being my amazing photographer throughout the trip and putting up with me asking her to take 100 shots each time to get one good one!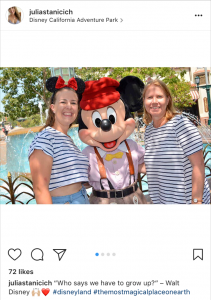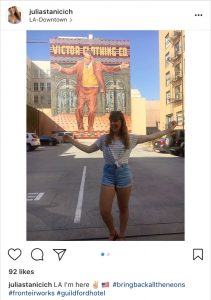 Okay, very important question: what was the best meal of the trip?
My favourite meal would have to be all the ones at the Cheesecake Factory! If I had to choose one, I'd say my very first one where I got a chicken Mexican salad and it was the size of 3 salads here!! Seriously, this place has the best food and massive portion sizes for such a reasonable price. My friend who's from LA told me I had to go while I was there and after the first time in Anaheim, we went back 4 or 5 more times.
It sounds like a truly amazing trip! Where was your favourite place?
I would have to say my favourite place on this trip was Disneyland, because it was somewhere I have wanted to go for as long as I can remember and it was just as magical as they say. I got to go on all the rides, have photos with all the characters and saw the shows at the end of the day which were unbelievable.
Thanks to Julia for catching up with us about her amazing trip! We're busy planning our 2017 New Year's Eve Party, and this year we are letting you play pilot…
Whether you want to sip fruity cocktails Ko Pah Ngan style or roll the dice on the Vegas strip, we want you to vote for this year's NYE event theme. We've created six global party destination themes, simply vote for your favourite!
By entering the competition you are in with a chance of winning a double pass to our NYE event! // voting closes Friday!